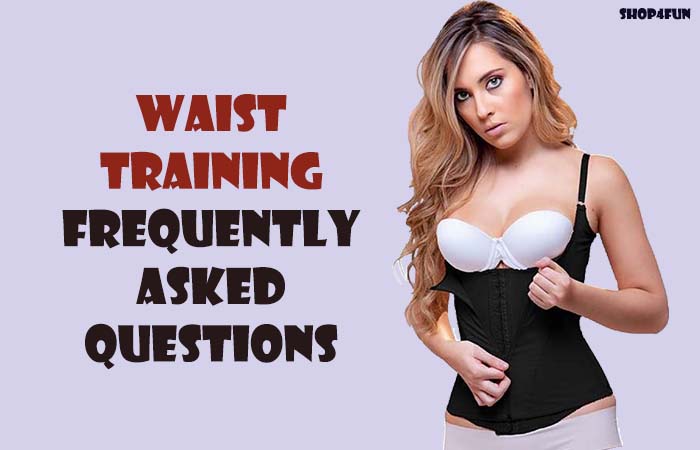 SHOP4FUN have been receiving many waist training questions from new customers, such as regarding of how to do it, what to do, and if and how it all works. So we've compiled a FAQs list to answer all of your questions and also help you get started on your waist training journey. SHOP4FUN Waist Trainer Experts will answer and satisfy you as simple as possible.
Waist training is a process of weight loss and reshaping your waist by wearing a garment known as waist cinchers/ trainers, corset, body shaper and fat-burning girdle. A suitable waist training garment can reach your waist results and waist training regimen routine.
How does a waist trainers work? Do they burn fat?
Waist trainers do work by using scientific methods call as thermogenic, so it generated heat at a mid-section area through metabolic stimulation. Therefore, you can feel more sweat/burn fat in your abdomen core especially while in the workout. Also, the high compressions help to control your daily intake.
Does waist training work? How fast will I see results?
The effect is immediate! The waist trainers can instantly reduce one to four inches from your waistline when wearing. In long run fact that if you want to get rids fat on your waist then you have to start a proper waist training and adequate control of your healthy diet to achieve good waist training results.
Do I wear it under or over my clothing?
It depends on your personal preference although the waist trainers are designed to wear underneath clothing. Many celebs wear it over the clothing while work-out, and wear it underneath the clothing to keep them hidden when attending special events.
Do I need to wash waist trainer?
We suggest washing after every couple of use. Hand-wash in warm water using a baby/mild shampoo and remember doesn't twist, just rinse and then hang/lay flat the waist cincher to dry.
First of all, you have to measure and get to know your waist size correctly. The sizing of every waist trainers may vary different slightly, so you have to check the product description part (sizing regular shown on products pages).
Is my waist trainer to tight?
It's considered normal if you are feeling uncomfortable for the first time due to it takes time for your body to get used to the waist trainers. Assume that you keep feeling some signs such as feeling discomfort, waist pain, and breathing difficulties, then you need to adjust the tightness by hooks-and-eyes. Or, you may need to consider buying another new suitable waist trainer for yourself.
What is the best waist trainer?
SHOP4FUN combined all the reviews from customers and sorted out the top/ best waist trainer list to you guys refer. So you can decide which waist trainer is best for you weight loss, workout, etc.
Do I have to continue wearing my waist trainer when the result achieved?
As long as you want to maintain the results, so we suggest you to continue wearing waist trainer.
Are waist trainers only for women?
No, there have some waist trainers for men too.
Can I sleep in my waist trainer?
It depends on your personal preferences. But our waist training expert does not suggest sleep by wearing your waist trainer due to letting your waist take a break.
Is there any other waist trainer questions? Welcome to contact us via email (support@shop4fun.online) or live-chat.