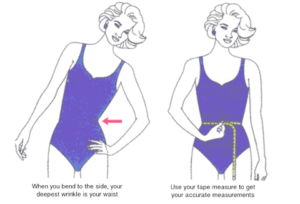 If you are new to waist training, here is the best UK waist trainer guideline to teach you how to measure waist trainer correctly. Waist training means an act of wearing a garment which extends from the down of your hips to your top of your ribs which purpose is to create a sexy waist and flatten the abdomen. By over-time, the waist trainer really can slowly to re-position the body's curves to create a hot hourglass shape and losing weight.
Waist Training Size Chart
In fact, we found that the typical comment of many customers is that they don't understand how the select the right size which causes to larger or smaller sizes for each purchase than usual garments. Therefore, SHOP4FUN have a waist trainer size chart to help you to make the right size selection.
How to Measure For a Waist Trainer
A good waist training cincher should fit you snugly which same like a glove.  You'll need to take out a measuring tape to measure your body and mark down some figures about your body (bust, waist, hips). The critical measurement for a waist trainer is your size of the waist Therefore, measuring your waist by using a flexible measure tape that allow the tape comfortably follows the natural contours of your body. The waistline is the narrowest part of your body, so remember a female's waistline is about an inch above her navel, and a male is just above the top of his hip-bone, usually at navel level. Make sure the measuring tape is neither too tight nor too loose, and it should tighten taut well. Look up your waist measurement (in inches) and SHOP4FUN waist cincher sizing chart, and then you will know which waist trainer size is fit for you.
What Size Waist Trainer Do I Need
Due to the different sizing systems, SHOP4FUN recommend you purchase a waist trainer that's at least one size bigger than your regular clothing size. That's why you must have an accurate measurement of your waist which allows you can look up the right size for your waist measurement on the waist trainer size chart.
Usually, these waist trainer garments do apply some pressure, so it's important to get exactly the right size and make sure you are wearing it at the right tightness. A right fitting waist trainer should not prevent you from breathing or usual moving, but it usually will take a little bit time of getting used to it. You can achieve an hourglass curves effect quickly once you keep waist training correctly and eat healthily.
Measuring Your Waist
Again to remind, you should measure by using cloth measure due to its move around your body much easier than a hard or metal measurement tools.