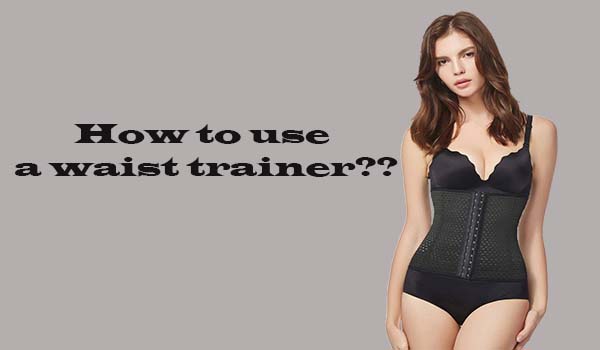 Are you passionate to get an outstanding body shape or are you seeking some good waist cinchers/trainer for your workout? In fact that how much you know about the waist trainer? Trainer isn't only a piece of fabric to put on the body, it considered is a complete remedial procedure able to get rid of excess weight and flatten your tummy as well as get an hourglass effect on the waist. Therefore, follow the basic guideline "How to use a waist trainer," then you can enjoy the best results of waist training.
It is important to choose the right size
As I mention before that, you have to understand your figure size at all and choose a right size waist trainer.  A wrong size trainer will impact your results of weight loss and waist curves because of the issues of very tight and very loose. Therefore don't simple to purchase any new waist trainer (Colombian, Kim Kardashian, Ann Chery, etc.) for you before reading this basic guide article "how to use a waist trainer."
Measure Your Waist Size
The major purpose of the waist cincher/trainer is to get rids of your belly fat and prominent waist fat. Therefore, you have to measure precisely your waistline and get the perfect fit cincher/trainer to re-shape your body.
Differences between Your Waist Trainer Size and Usual Clothes Size
This is must read the part at this article "how to use a waist trainer," because of most of the customer purchase wrong cincher/trainer size. Why say so? The reason is normal clothes just for cover your body whereas waist trainer is for your better appearance. Therefore, waist trainer needs to have a right fitting which means neither be too loose nor too tight. In fact, SHOP4FUN suggested purchasing cinchers one to two sizes larger than your usual clothing.
How to Wear a Waist Trainer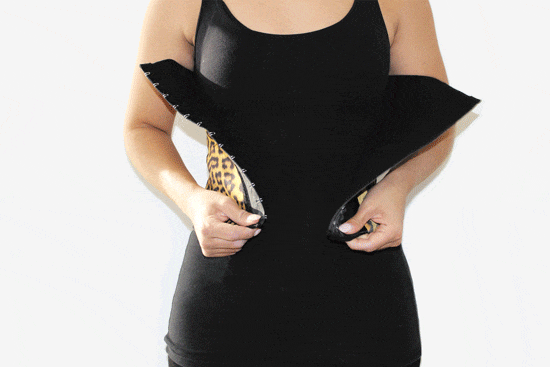 Most of the people think of wearing a "waist trainer" is an easy task, but in fact, that's quite different. I'm sure you can't get best results if you not dealt properly with waist trainer. Therefore, this article "how to use a waist trainer" is showing how important to wear it correctly to help achieve the desired outcomes. You may follow these tips while you are wearing the waist cincher for the first time.
Cincher/trainer is featuring stimulate heat to discharge more sweat on your waist, so recommended worn under your ordinary clothing. But there is depending on your personal preferences and what your actual purpose to utilize the waist trainer.

Most of the waist cincher/trainer comes with three rows of hooks-and-eyes which mean that the first row is the least tight. We suggested you don't feel tight so hard while first time put on waist trainer.

Put the lower region of the cinchers/trainer just slightly above the mid-section of your body. Remember that the hooks come on the right side of the body; the waist trainer can be adjusted. Waist cincher/trainer not like corset due to it has a natural stretch, so you still can keep moving upwards. Once all buckles and adjustment have done, you are ready to enjoy the outcomes.
Is it hurt at the beginning?
This is normal that you have to encounter challenges such as the uncomfortable feeling of compression. Due to the waist cincher/trainer different from regular clothing, it is a garment to compressing your body to flatten your unwanted weight and fat. Therefore, you can feel the trainer apply undue pressure to the body that makes your body feel uncomfortable temporarily. These uncomfortable feels will go once you get used to it. On the other hand, if you have sensitive skin to latex or you get a skin rash on the very first use, then means latex waist cincher/trainer may not suit you.
How to bend with a waist trainer
Most of people misunderstanding think that impossible to turn with the waist trainer. It is not like the corset, the waist trainer construct by spiral steel boned which allow you to be possible to bend. Of course, don't compel yourself to move if you feel uncomfortable due to may damage the trainer also your internal organs.
When to change a smaller size?
Mostly waist trainer comes with three rows of hooks-and-eyes, and you usually start buckling the hooks from the third rows at the beginning. By over time, you will found you move from the third row to the second row because your waist is getting small. You have to start to think change a smaller size waist trainer when you move to innermost row. Every time you change a smaller size waist cincher/trainer means getting closer to your ideal weight/waistline results.
Waist trainer for weight loss
Waist training needs to come with a healthy diet to reach your slimming effects. When you start to think where to buy a waist trainer which means you think it seriously to want to achieve goals. Many women/men mistakenly believe that the cincher/trainer can lose weight quickly but in fact, just body losing moisture (sweat) leads to weight reduce temporarily. Therefore, real waist training must lower the daily intake of calories and wear waist trainer at least 8 hours daily.
Conclusion
What conclusion you get in the article "how to use a waist trainer"? In fact, it cannot reduce your body fat, it just compressing your organs including your stomach to make you reduce your need for food. You intake diet less daily means fewer calories/fat added to your body. This is why makes you feel those trainers able to reduced fat, but all this happens because of appetite reduction.