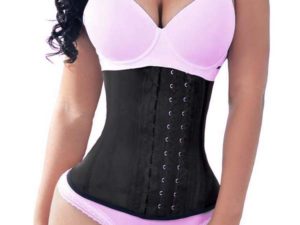 By the progress of the times, you can buy waist trainers anywhere such as retail stores, online stores, and even gym. But before buying/select a waist trainer for yourself, you must know the different basic types of waist training garments. Once you understand the waist training garments feature and functions, and then decided which garments are best for you.
What Are The Different Kinds Of Waist Training Garments?
There are two main types of waist training garments that are respectively, steel-boned corsets and latex waist trainers (also known as waist cinchers).
Steel boned corsets are laced up at the back which pulling in the waist and make you created an hourglass figure results immediately.
Latex waist trainers usually made of spandex, latex, or nylon, and some even constructed with plastic/spiral boning. View more detail regarding the differences between corset and waist trainer here.
What Should I Do Before Buying A Waist Trainer?
Before that, you need to use a measuring tape to measure your waistline figure. Here are sizing guide you can refer. Once you know your size, you can seek for where to buy a waist trainer and select the waist cinchers that fit you.
Where Do I Buy A Waist Trainer?
Personal Business Website: These are typically websites owned by waist training expert or some waist trainer corset manufacturer, such as Hourglass Angel, Orchard Corset, and SHOP4FUN. Usually, these sites offer useful information and latest trend of waist training to people who want to start their waist training journey, as well as able to instant to solve your questions.
Amazon: One of the most significant online retailer in World that has to sell various types of waist trainer and corsets, waist trimmers, weight loss belts, etc.
E-Bay: Another of the most significant online store has different kinds of waist cinchers and corsets such as under-bust and over-bust corset garments.
Gym Centre: It is not surprising that waist trainer appears in gym center due to it considered as workout outfits. So usually, you will quickly found out workout accessories such as kettles, sneakers, and workout waist trainers in the gym.
These places above should solve your question regarding where buy a waist trainer. For my personal opinions, personal business website and gym are the best places for you to start your first piece of waist trainer because they can provide professional advice to you no matter you facing measurement sizing issues, waist cincher questions and so on. However, buy a waist trainer a few sizes smaller than your waist size due to this will make them fit better and also you can utilize them for much longer.